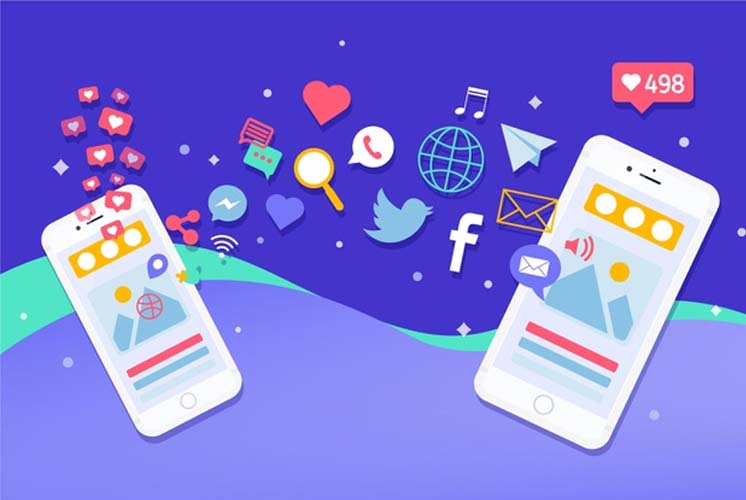 These days, promoting your brand on Social media is the move of next-generation marketing.
What is Social Media Marketing ?
Social Media Marketing is the marketing of your brand or services and products on social media platforms. There are a large number of social media platforms, the most famous of them being Facebook, other examples include Instagram, Youtube, Whatsapp, Twitter, etc. We at Run Digital Marketing provide all types of social media marketing services. Social media marketing is one of the best ways to reach voluminous clients. Read on to understand SMM marketing in detail and find out what it includes and how can you benefit from it?
Though Google reaches most of the audience. The social media offers an immense benefit in terms of reaching an even wider audience as well. And there is no doubt in the fact that Facebook out of all other social media is the biggest platform. It has 1.55 billion active users on a monthly basis. Moreover, Instagram also comes under facebook only so it becomes easy to market on both platforms. Linkedin is another online place where you can market your brand though it is a bit expensive.
To acquire large scale benefits from Facebook using Facebook Pixel will help greatly along with the boost posts option. And just like Google offers Remarketing, Pixel allows retargeting. This is just like the Remarketing in Google. Linkedin is helpful for B2B campaigns where you can advertise your product or service with text ads or display ads.
Social media marketing services has benefited a lot of brands to gain astounding success. In this list of successful enterprises comes Flipkart, Myntra, P&G India, Uber Cabs, Sony India, Tata Nano, Godrej, and Shoppers stop, etc. Your brand could be next. All you need to do is let us be your social marketing agency and we will take care of the rest for you.
How does it work?
Social media marketing is done by promoting the content on social platforms and engaging with the target customers then and there only. Social media platforms are used to spread awareness about the brand and generate a large amount of lead to convert them into the company's clientele. At first, the social media status of the company is analyzed and then accordingly business and marketing strategies are formed. The market, the audience is the center of these business strategies.
The next step is to curate informative and captive content. Content is the main important point as this comes under the first few interactions between your business and your clients, therefore all the information in the best presentable manner should be executed. Through this one can take the full benefits of online presence and digital marketing. The thing to note here is that the content that we are talking about here will be uploaded on the social media platforms and not on the website. So it is important that the style of the content is in regard to social media. Once the content is developed, promoting the content is the next step. This is done in accord with the business strategies set earlier to reach the maximum audience.
Next, comes the analysis and tracking of the success rate of all the campaigns and promotions. Evaluation and monitoring of the campaigns and new opportunities are among the final steps, the last being working endlessly and vigorously to bring in and increase the clientele.
And we at Run Digital marketing take care of all these procedures involved and render the best social media management services to acquire the desired results.
What goes into SMM ?
This is just like the crux of the whole thing. Social media services include marketing your brand, services or company on social media platforms. Mentioned below are some of the best and must-use platforms for social media marketing:
1. Facebook 2. Instagram 3. Twitter 4. Linkedin 5. Youtube 6. Whatsapp 7. Pinterest 8. TikTok
There are many other social media platforms that a company can use for the purpose of social media marketing. All these platforms are used to reach as much audience as possible. Now all the names mentioned above are different types of social media platforms though there exist some similarities even then when it comes to content and marketing the format is somewhat different. We will be able to help you and assist you in all possible ways to create and promote all different types of content and campaigns for these large number of social media platforms. You will not be disappointed with our social media marketing service.
What benefits you will get?
The main benefit and purpose of Social media marketing remain to be the same as that of any other business goal and that is the growth of the enterprise and to increase clientele. But to list and name a few benefits of social media marketing, the following can be considered:
1.Enhanced Brand Awareness
Social media renders a cost-efficient platform to reach a wider audience by syndicating content and increasing the business' visibility demolishing the geographic bars.
2.Increased Inbound Traffic
If social media marketing does not take place then the clientele of a firm or company becomes quite restrictive, bounded by geographic bars. Social media marketing helps greatly in attaining customers from unexpected, far-off locations.
3.Escalated Customer Satisfaction
Social media platforms help in spreading the word and becoming the voice of your brand. When your services are good, customers themselves become the promoters of your product or service or brand by expressing their views and opinions on social media.
4.Better Search Engine Ranking
Creating high-quality content with targeted keywords not only improves your social media presence but also helps in increasing your rank on the search engine result page. This can be done with the help of blogs, case studies, employee photos, infographics, and business information. Moreover, as time passes and your business progresses, other industry influencers start to backlinks to you which in turn helps in the overall ranking on the Search Engines.
5.Intensified Brand loyalty
This is a common goal that all businesses aspire for. Having a loyal and strong customer base. Engaging with the customers regularly and aptly is critical in establishing a loyal clientele. And the best platform to do this is social media. With the help of social media, communication can easily take place between the brand and its consumers. This is the key to create loyalty among customers.
6.Cost-Effective
The best thing about Social media marketing service is that it is cost-effective. First of all, creating an online presence or profile on these social platforms is free and on top of that, the paid advertisements and campaigns are not so costly. If you are starting to use the paid marketing services of this social media, then always start small and as your strategies improve and business expands, you can spend more. Also, you can get so much of return and conversion from a small investment.
Why choose Run Digital Marketing ?
Run Digital Marketing ensures that we provide the best of Social media marketing services to our customers. We have in-depth knowledge of all the associated methods and strategies to bring about the growth that you wish for in your business. And for us as well, customer satisfaction our priority. Our team of experienced and expert professionals works vigorously to bring the desired results.
Moreover, we charge our customers only the reasonable and most apt prices. And we will take care of all the aspects, leaving almost hardly any effort on your part. We aspire to gain our customer's trust and loyalty with our great work and services that we render.
Frequently Asked Question